Frequently Asked Questions
DIY DC Amp to Boost Telemetry Sample
This article describes a build-it-yourself project. Sine Systems offers model DCA-2 DC Amplifier that performs the same function.
The RFC-1 is will give a full scale telemetry reading with as little as 1.0 volt DC. This is adequate sensitivity for the vast majority of telemetry sources common in broadcasting. In some cases the available telemetry voltage is too low and a DC amplifier is necessary. To ensure accurate telemetry readings, the DC amplifier must have highly stable gain characteristics and contribute negligible DC offset.
The circuit below has a DC gain of 10 with the required level of accuracy. The integrated circuit is an LT1101 instrumentation amplifier. It has a differential input with a very high impedance. It can be powered by a power supply delivering +10 to +25 volts. A regulated supply is recommended.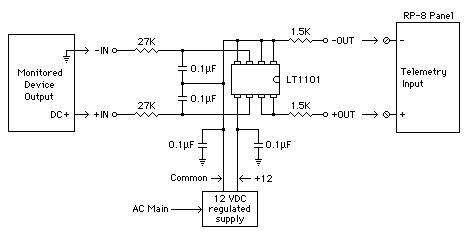 | | | |
| --- | --- | --- |
| 1 | Op amp IC | LT1101CN8 |
| 1 | 8 pin DIP socket | AE9808 |
| 4 | 0.1mF 50V monolithic ceramic capacitor | P4923 |
| 1 | 1.5K Ohm resistor | 1.5KQBK |
| 1 | 27K Ohm resistor | 27KQBK |
| 1 | 12 VDC regulated power supply | CDPM1001 |
DIY Isolation Amp for Telemetry Sample
In some cases, a high degree of isolation may be required but DC gain is not needed. This can be accomplished by setting the gain of the amplifier to 100 and adding a 100:1 attenuator to the input. The circuit below has an input impedance of approximately 5M ohms with no DC gain (unity).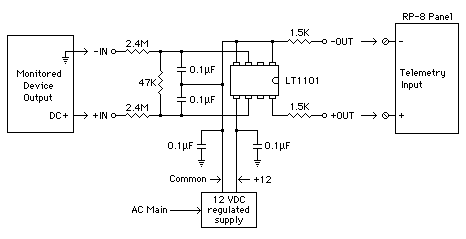 | | | |
| --- | --- | --- |
| 1 | Op amp IC | LT1101CN8 |
| 1 | 8 pin DIP socket | AE9808 |
| 4 | 0.1mF 50V monolithic ceramic capacitor | P4923 |
| 1 | 1.5K Ohm resistor | 1.5KQBK |
| 1 | 47K Ohm resistor | 47KQBK |
| 1 | 2.4M Ohm resistor | 2.4MQBK |
| 1 | 12 VDC regulated power supply | CDPM1001 |